A Sculpture Trail…
halfway between Storm King and Grounds for Sculpture
lies Laurelwood Arboretum
A Sculpture Trail
, part of the continuing Art at the Arboretum series, is a multiyear project to benefit Laurelwood Arboretum. EXPLORE … installations are underway.
Installed October 14, 2019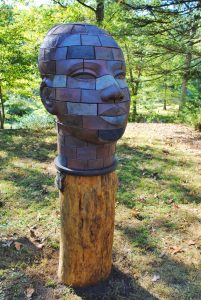 Brickhead Iyemoja, James Tyler Sculptor. Iyemoja, from West Africa, is the protector of all women, governing childbirth, conception, love, and healing. See Lorraine Meyer's photos of the installation. Read about the artist. See artist interview.
The careful placement of curated sculptures by prominent artists will serve to enhance the park by complementing its landscape and serene setting. In addition to docent-guided tours, school-age and adult educational programs will be developed. All sculptures will be available for sale through an exclusive agreement with "Broadfoot & Broadfoot, A Collection of Fine Art," Boonton, NJ. A percentage of the proceeds will be donated to the Friends of Laurelwood Arboretum (a 501(c)(3) nonprofit organization) and will be applied to the installation of deer fencing to ensure that herds, which have overrun the park over the past few years, will no longer decimate the beautiful shrubbery and grounds.
To get started, WE NEED YOUR HELP to cover installation and signage expenses. A Go Fund Me page has been set up CONTRIBUTE to kick off this exciting project. Opening events are being planned for the weekend of June 5-6, 2021. Details will be posted here as they unfold.
The Friends of Laurelwood pro bono attorney, Stuart Reiser and his wife Leslie, long time Pines Lake residents, are serving as chairpersons. To get involved with this project or to inquire about sponsorships, please call 973-831-5675 or send an email to Sculpturepath@laurelwoodarboretum.org.